Supporting our customers to create a gastronomy that does good and tastes great.
Commitment to the gastronomy professions
Professions in the culinary arts are part of a heritage in their own right, which needs to be preserved and perpetuated. Younger generations are less attracted to these careers. This is why we believe it is important to introduce them to this profession. Valrhona plays a part in helping young people to discover this sector, which provides employment and is looking for new talent.
But today, this is no longer the only challenge that culinary arts has to face, as it also has a fundamental role to play in the ecological and climate crisis we are experiencing. As a matter of fact, culinary arts has a stake in all aspects: health, the environment, culture, education and society, so it is normal that it takes part in a responsible approach.
At Valrhona, we believe it is our responsibility to guide culinary arts professionals in this transition, and this is therefore also the purpose of the Live Long Gastronomy pillar.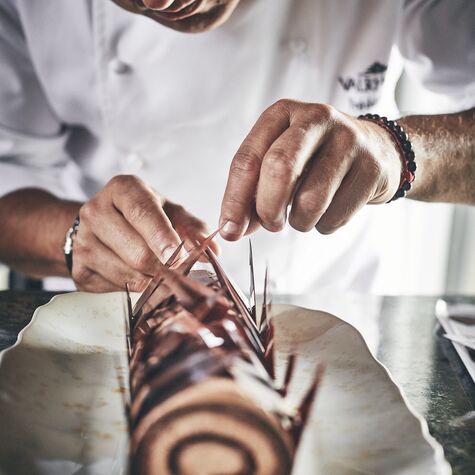 Our objectives
and progress
16,000

people trained
by l'Ecole Valrhona.
4

promotions
of the Graines de Pâtissier programme (Valence, Lyon, Paris and Lille).
14

young people
started a CAP professional certification at the end of the Graines de Pâtissier program
7

young CAP graduates
in June 2019 (from previous years).
38

young people
took part in the Graines de Pâtissier program.
6

projects carried out by our subsidiaries
in the field of gastronomy.